No one can say no to a spot of caroling at Christmas time and so this is an amazing opportunity to bring along a friend or someone who is new to the Christian Union. We sing carols together, have some sung to us by some amazingly talented CU members and hear a short talk on the Gospel. We usually round the evening off with some mulled wine and mince pies!
Every year, normally after exams have finished in February, we have an Events (or 'Mission') week. This is one of our biggest outreach times of the year, as it is a whole week packed full of evangelistic talks and other events that have the sole aim of telling people on campus about the good news of Jesus. 
As a CU, this week is also great for getting to know each other much better, and encouraging one another in our walks with God. We look forward to this week every year, and we can't wait to see you there!
A fun quiz with a Gospel talk sandwiched in the middle. It is a great opportunity to bring people along who wouldn't usually come to the Christian Union. Snacks are eaten, prizes are won and fun is had by all!
Another chance to bring people along to hear a short talk on the Gospel, this time accompanied by (hopefully) sunny weather and (definitely) yummy BBQ food!
An acoustic night with a talk on the Christain faith and plenty of snacks! A great way to catch up with people you may have started conversations with at events week and perhaps have some deeper chats with them.
Text-a-Toastie/
Dial-a-Doughnut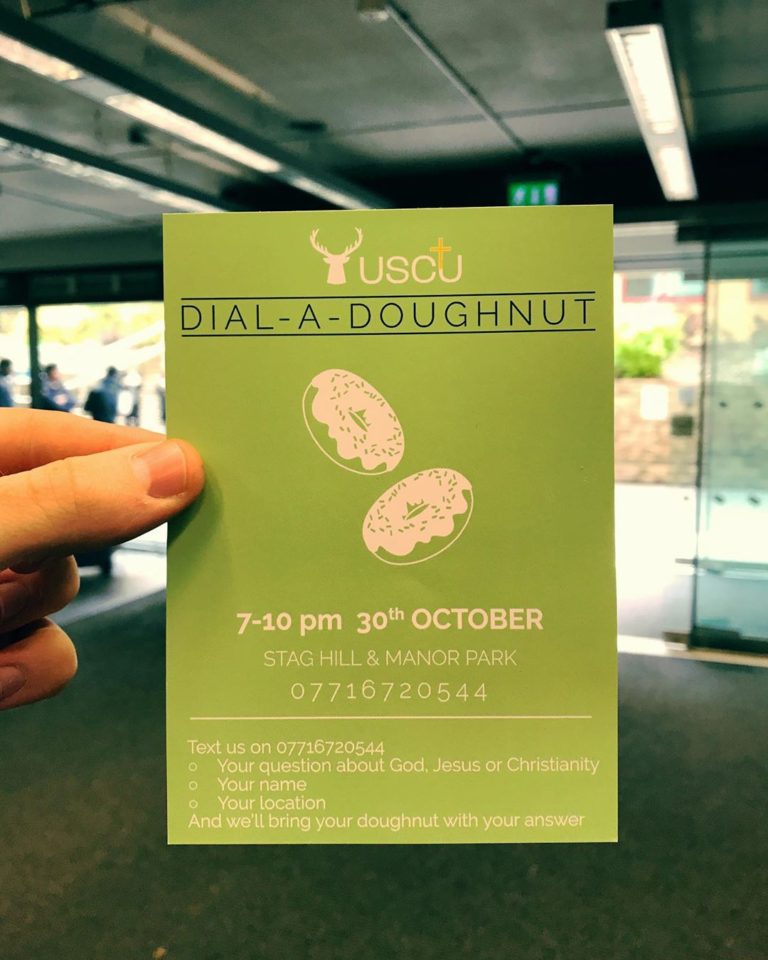 People text in questions about the Chirstian faith and their answers are brought to them with doughnut or a toastie to sweeten the deal! It is a great opportunity to engage with people who may not usually interact with the Christian Union and the big questions that people ask allow you to dive straight into the deep end of Jesus coverstations. Don't be nervous though! You'll always have at least one buddy with you who will have done this before.
Biscuits and cakes are arguably the most effective way of catching people's attention! If we have a big outreach event coming up this is a great way of getting the news out to the campus. We set up camp on one of the tables downstairs from the library and give out baked goods, accompanied by a leaflet and a quick explanation of who we are and what we do. Who doesn't love an excuse to bake?